---
Carte de Visite and Cabinet Card Dating

PhotoTree.com brings you a step-by-step guide to identifying and dating old photographs. Designed for anyone who wants to know more about 19th century photographs:

Genealogists
Family Historians
Reenactors
History Researchers

See Sample chapter PDF pages.
Click on thumbnails below.

Discover the Clues to Dating Photographs

This KwikGuide presents a fresh and comprehensive approach to researching and dating 19th century photographs. By following the easy-to-use numbered clues, reviewing tables and checklists, and comparing images to their own, the researcher can easily become an expert at dating old photographs.

Additional chapters explain the clues offered by studio props, photographer imprints, unique formats and other photo attributes. The chapters include:

Introduction
Chapter 1 ~ A Brief Photographic History
Chapter 2 ~ Cartes de Visite
Chapter 3 ~ Cabinet Cards
Chapter 4 ~ Studio Props
Chapter 5 ~ Unique Photo Formats
Chapter 6 ~ 20th Century Photographs
Appendix A ~ Common Card Sizes
Appendix B ~ Research Website
Appendix C ~ Glossary

---

Amazon.com Reviews

Read what reviewers say about 19th Century Card Photos KwikGuide:

By JM, March 30, 2013 - Best of the many I've looked at. - I've purchased a couple of books on dating 19th century photographs and looked at many more and this one is by far the best. After a very short history of Carte de Visite's (CDV) and Cabinet Card photos, the majority of the book gives you clues in an orderly manner to date your photo. An example, for CDVs look first at thickness, then borders, corners, imprint, size, stamps, clothes,& studio, and the book explains in good depth what to look for under each heading. This book makes it easy to be accurate within just a few years. There are numerous charts and even a checklist for Carte de visites. It's just as informative for Cabinet Cards. Highly recommended.

By PJ - May 14, 2013 - A great guide for identifying cabinet cards and CDVs. - I have a collection of Cabinet Cards and this book helped me learn a lot about them. There is ton of information and photos. You can date the photos by paper printed on, type of edging on card, is the printers name embellished or plain, the color of the card. Also pictures of the styles of hair and clothing help identify the age. I highly recommend this book which is truly a quick guide.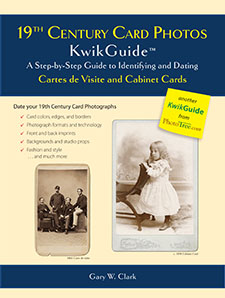 Published on: 2013-03-04
ISBN: 978-0-9835785-5-0
Original Language: English
Number of items: 1
Dimensions: 11"h x 8.5"w, 1 pound
Binding: Soft cover
90 pages, color
19th Century Card Photos KwikGuide

A Step-by-Step Guide to Identifying and Dating Cartes de Visite and Cabinet Cards.
by Gary W. Clark
List Price: $19.95 - CLICK HERE
Available from Amazon.com

---
Cartes de visite and Cabinet Cards
19th Century Card Photos KwikGuide presents a fun, interesting and easy-to-follow set of clues to guide genealogists, historians, and other researchers through the task of dating their card photographs from the 1800s. With over 200 high quality documented photographs included as examples for every clue, the researcher can accurately and with confidence determine most photograph dates within two to six years.
This book illustrates photographic technology changes that occurred frequently throughout the 19th century. These changes have been verified, tracked, and dated, providing a time line of identifiable characteristics. Traditional review of style and fashion are also included, many with new insight.

Informative chapters include:
History of Photographs
Cartes de visite
Cabinet Cards
Studio Props
Unique Formats
20th Century Photographs
. . . and more.