Dynamic and Educational Programs for Your Society
Dynamic and Educational Programs for Your Society
Looking for energetic presentations that immediately deliver insights into solving genealogy mysteries and family history challenges? You have found a source.
Download the Speaker Program (PDF) here:.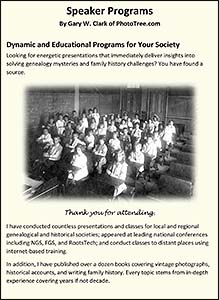 Learning Opportunities

Each hour-long presentation unleashes surprising tips not known by most family sleuths. Easy to grasp, the material shows genealogists and family historians new research pathways and offers unique ideas for telling their family stories.

Solving 19th Century Photo Mysteries! Identifying and Dating photographs from 1840 to 1900.

Understanding Your 20th Century Photographs. Though recent, many 1900 - 1950 photos are still misunderstood.

Can I Save My Damaged Photos & Documents? Restoration: What is possible? Digital techniques bring photos back to life.

What is Best Care & Preservation of Photographs? Preserve those heirloom items from further ravages of time.

What is a Tintype and other Cased Images? Study of earliest photos and how to date and preserve them.

Digitize Those Vintage Photos & Documents NOW! Your insurance against original loss and sharing with others. Scanning & camera copying techniques & demonstrations.

Adventures in Writing Family History. See how to easily start and write a memorable family history.

How Do I Publish a Family History Book – With No Costs? Learn how to create a real book with no upfront costs.

Bring Key Facts into Your Family History from Old Publications! News reports, many times covering your ancestors, help build a compelling history of how they lived.

Presentation summaries and outlines are available on request. And new programs are continually added.