Real Photo Postcards - The Social Media of the Turn of the Century

The only guide to identifying and dating Photo Postcards. These postcards, wildly popular from the mid-1900s to 1920, were the social media of the era. Much family history can be derived from the messages and images on them. This book helps you date the postcards when postmarks and written documentation is not available. This a a must for the library of:

Genealogists
Family Historians
History Researchers

How were picture postcards made?

Kokak 3A Folding Camera

This camera and others like it took postcard size negatives which then made the postcards.

Real Photo Postcards were just regular pictures developed on pre-printed postcard stock. When having your film developed, it was an option to receive plain prints or postcards.

Learn about the history of the photo postcards with the Real Photo Postcards KwikGuide.

Companion Website with Image Downloads

A companion website gives the reader high resolution color images of all the photographs and vintage advertisements in the book. This website gives the reader of the economical black and white printed book a look and the enchanting colors of the media at the time.

Discover the Clues to Dating Picture Postcards

These vintage postcards are sometimes called picture postcards or RPPC ( short name for Real Photo Postcards). These were actual photographs (hence the name Real), taken by our ancestors or studio photographers, that were printed on postcard blank.

This KwikGuide is the first book written for the genealogist and historian that wishes to understand the special place these postcards held in society, and when they were made.

Chapters included are:

Introduction
Chapter 1 ~ Government Postcards
Chapter 2 ~ Private Mailing Cards
Chapter 3 ~ The Postcard Rage
Chapter 4 ~ The Modern Postcard
Chapter 5 ~ Stamp Boxes and Stamps
Chapter 6 ~ Image Styles and Sizes
Chapter 7- Fashion and Style
Chapter 8 ~ Cars, Farms, and Gatherings
Chapter 9 ~ The Demise of RPPCs
Appendix A - Early Kodak Cameras
Appendix B ~ Common Film Sizes
Appendix C ~ Postcard and Camera Influence

Available From

Any of PhotoTree.com books can be purchased online from:

Also, see us at major genealogy conferences for show specials. Our schedule is available here.

---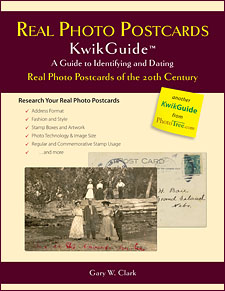 Published on: 2013-04-22
ISBN: 978-09835785-8-1
Original Language: English
Number of items: 1
Dimensions: 11"h x 8.5"w, 1 pound
Binding: Soft cover
70 pages, BW
Real Photo Postcards KwikGuide

A Guide to Identifying and Dating Real Photo Postcards of the 20th Century.
by Gary W. Clark
List Price: $10.95 - CLICK HERE

---
Real Photo Postcards (RPPC)
Real Photo Postcards KwikGuide is a fun guide to the popular postcards in the early 20th century. This guide is a required reading for genealogists, family historians, postcard collectors, and vintage photograph enthusiasts. The KwikGuide presents a short history of all postcards and then covers Real Photo Postcards in detail, including how to recognize and date them.
Dating postcards is important to understanding who the subjects in the picture may be. For collectors, determining the date of a photograph may help understand the rarity and value of a postcard. Typical clues for dating postcards such as stamps, stamp boxes, and card format are illustrated with fine images from the PhotoTree.com collection.

Informative chapters include:
History of Postcards
Stamps and Stamp Boxes
Postcard Size and Formats
Postcard Galleries
Fashion and Style
The Demise of Photo Postcards
. . and more.
A companion website allows the reader to view high resolution, color images found in the Real Photo Postcards KwikGuide.