---
Photo Restoration for Photoshop Elements Users

PhotoTree.com brings you a step-by-step guide for restoring photographs – old or new. Designed for anyone that wants to repair damage to treasured images, this guide helps:

Genealogists
Photo Collectors
Family Historians
Scrapbookers
And Everyday Photographers

Read what Amazon reviewers say about the Photo Restoration KwikGuide:

By D.M., March 12, 2013 – I do a great deal of photo restoration on old family photos. This book was very helpful and easy to follow.

By B.B., March 13, 2013 – This is a great book. Simple instructions. Would recommend this book to anyone who wants to try to restore their own photos

By J.K., April 13, 2013 – This book by Gary Clark is the best I've read on repairing photos using Photoshop Elements. His explanations using good illustrations makes restoring my photographs easy. Although the book is less than 90 pages, it covers the areas of restoration that are most often used on photographs, especially older ones.

For Photoshop Elements
Versions 11 through 13.

See Sample chapter PDF pages.
Click on thumbnails below.

Easy To Follow Restoration Steps

The Photo Restoration KwikGuide looks at seven types of photograph damage, solving most types of restoration challenges. With numbered instructions provided, and images showing each step along the way, any user of Photoshop Elements can repair photos like an expert. Chapters address in detail the most common types of damage:

Additional chapters explain the mysteries of scanning, resolution, and other basic image editing topics. The chapters include:

Introduction to Restoration
Chapter 1 - Navigating Elements
Chapter 2 - Scanning & Copying
Chapter 3 - Straighten & Crop
Chapter 4 - Layers, Selection & Feather
Chapter 5 - Marks, Tears, & Scratches
Chapter 6 - Dust and Blemishes
Chapter 7 - Missing Pieces
Chapter 8 - Faded Photographs
Chapter 9 - Dark Photographs
Chapter 10 - Color Correction
Chapter 11 - Face & Body Work
Chapter 12 - Tips and Tricks
Appendix A - Elements Shortcuts
Appendix B - Elements Tool Bar - v10
Appendix C - Elements Tool Bar - v11
Appendix D - Pixels & Resolution
Appendix E - Glossary

Companion Website with Image Downloads

A companion website allows the reader to download high resolution images from the book, and perform the same steps during the learning process. PDF downloads of short cut keys and tool maps can be found along with extra tips and restoration ideas.

Available From

Any of PhotoTree.com books can be purchased online from:

Also, see us at major genealogy conferences for show specials. Our schedule is available here.

---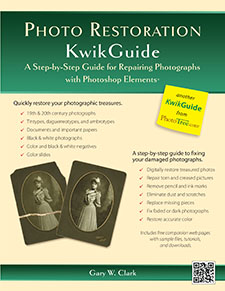 Published on: 2012-12-27
Updated: March 2015
ISBN: 978-0-9835785-3-6
Original Language: English
Number of items: 1
Dimensions: 11"h x 8.5"w, 1 pound
Binding: Soft cover
96 pages, color
Photo Restoration KwikGuide

A Step-by-Step Guide for Repairing Photographs with Photoshop Elements ®
by Gary W. Clark
List Price: $19.95 - CLICK HERE
Available from Amazon.com
---
Photo Restoration
The Photo Restoration KwikGuide presents an easy-to-follow approach to the problem of fixing damage to valuable photographs.
Using the popular Adobe Photoshop Elements versions 11 through 13 as the image editing tool, this KwikGuide shows you how to fix the seven most common kinds of photographic damage. Learn how to:
Repair scratches, marks, tears.
Remove dust and blemishes.
Bring faded pictures back to life.
Lighten pictures that are too dark.
Correct color changes.
Recreate missing pieces.
Fix face and body damage.
In addition, the Photo Restoration KwikGuide presents the fundamentals of image editing, along with tutorials on scanning, file recommendations, resolution, and other necessary concepts to master.
Companion Website - Downloads and More
A companion website allows the reader to download the exact images used for illustration, and perform the same steps during the learning process.