Great Holiday Stocking Stuffers

New Personal Journals
Manage research notes when conducting research in libraries, archives, hisorical societies, cemeteries, and even family gatherings.
No more losing your orginals notes on scraps of paper or in a variety of sprial notebooks, binders, or elsewhere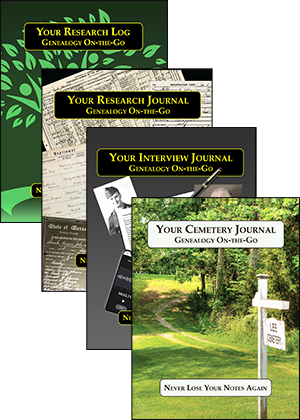 These journals not only contain up to 50 blank pages for your research notes, they are formatted in a variety of styles for your research. The Research Log and Research journal included pages to record your information on descendant charts, gamily group sheets, and other common forms.
The Popular Books in 2023 – As usual 19th Century Card Photos is the #1 Phototree book this year. Recognized as the expert book on card photos from the 1800s for genealogists, it is a valuable resource for many.

The Cemetery and Gravestone Handbook has quickly become a popular resource in the #2 position. Here are the top 5:




---

Gravestone Cleaning Videos - View a variety of videos on Cleaning gravestones: Tools, solutions, techniques, and more. These will change your ideas about the possibilties of safely cleaning family stones. Click here!