Learn the fundamentals of dating vintage photographs for your genealogy studies, family history, or collectible antique photo research.
These tools help you identify and date daguerreotypes, ambrotypes, tintypes, cartes de visite, and cabinet cards.
Holiday Season 2013 - Give the gift of a beautfully restored family photograph to your family members.
PhotoTree.com can fix your old photos and provide you with an image that will make a great framed picture.
Digital restoration poses no threat to the original photo, yet can many times return a near-perfect image.
PhotoTree.com publishes a series of acclaimed KwikGuide books on old photographs and restoration. Get the answers you seek to your vintage photograph challenges — the Kwik Way.
Additional resources are included for archival products, a genealogical events calendar, and other useful information.
October – Case Study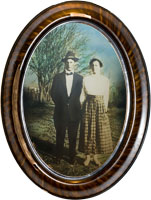 The monthly case study analyzes and dates a vintage photograph. Clues are revealed and explained in detail. See over 100 past case studies.
Repair Old Photos
Learn how to repair and touch-up damaged photos — or let us do the restoration!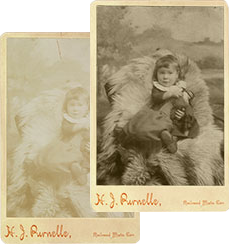 Photo Resources
Find the books, archival materials, and other resources to help you solve your photograph challenges.